June 24, 2023
Join us as we continue, in solidarity with Mercy Sisters, Associates and Colleagues around the world, to light a candle and pray for justice and peace  on Tuesday, 24 June, 2023.
Post your prayer intention in our sacred space.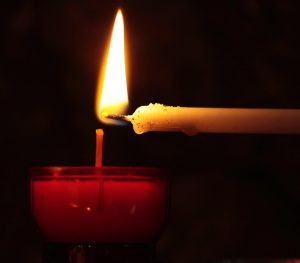 The practice began in October 2001, following the 2nd Mercy International Justice Network conference in South Africa, where those present resolved to focus their prayers and action on all forms of violence against women and children, as well as all kinds of racism. The conference opened on the night of September 11 2001 and so the events of that day in New York City deeply affected us as we immersed ourselves in the work at hand.
At this time the suffering of the people in the Ukraine as well as in many other parts of the world seem to be calling us to make a renewed effort to re-commit to this candle lighting and praying ritual.
Encienda una vela por la paz el 24 de cada mes
Únete a nosotros para continuar, en solidaridad con las Hermanas, Asociados y Colegas de la Misericordia de todo el mundo, encendiendo una vela y orando por la justicia y la paz el martes 24 de enero de 2023.
Coloca tu intención de oración en nuestro espacio sagrado.
La práctica comenzó en octubre de 2001, tras la 2ª conferencia de la Red Internacional de Justicia de la Misericordia en Sudáfrica, donde los presentes decidieron centrar sus oraciones y acciones en todas las formas de violencia contra las mujeres y los niños, así como en todo tipo de racismo. La conferencia se inauguró la noche del 11 de septiembre de 2001, por lo que los acontecimientos de ese día en la ciudad de Nueva York nos afectaron profundamente mientras nos sumergíamos en el trabajo que teníamos entre manos.
En estos momentos, el sufrimiento de la población de Ucrania, así como de muchas otras partes del mundo, parece llamarnos a realizar un esfuerzo renovado para volver a comprometernos con este ritual de encender velas y rezar.