January 28, 2023
Online Pilgrimage of Prayer and Awareness against human trafficking organised by Talitha Kum (International Network Against Human trafficking).
Peregrinación en línea de oración y sensibilización contra la trata de seres humanos organizada por Talitha Kum (Red Internacional contra la Trata de Seres Humanos).
Download the text of the Prayer Vigil 2023
The International Day of Prayer and Awareness Against Human Trafficking takes place every year on February 8th, the day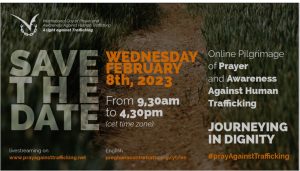 in which we celebrate the liturgical memory of St. Bakhita, the Sudanese nun who as a child had the dramatic experience of being kidnapped and enslaved and became the universal symbol of the Church's commitment against trafficking.
"Journeying in dignity" is the theme of the 9th Edition of the event.
In 2022, we have experienced major changes as well as the aggravation of crises. In this context, the number of both at-risk groups and people suffering from trafficking violence has increased. We are called to keep hope and the values that guide our being and acting alive. This is the meaning of the theme of the 9th International Day of Prayer, chosen by an international group of young representatives of partner organizations.
WHEN:
February 8, 2023 from 5.00 am to 12 noon (St John's time) in English and Spanish
8 de febrero de 2023 de 5.00 a 12.00 (hora de San Juan) en inglés y español
LIVESTREAMING: