March 5, 2010
Sister Eileen and her twin sister, Catherine, a Mercy Associate, have a hobby of making jewellery.  They even decorate the boxes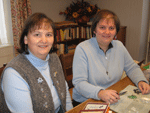 that hold the jewellery.  Catherine and Eileen also make lovely greeting cards for all occasions.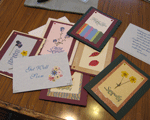 Much of their creation is given as gift but most of it is sold at congregationsl gatherings or fairs to raise money for our missions in Peru and for some other ministry that reaches out to the poor.
At times they receive special requests for personalized earings or cards.  One such request might be to use the pearls or beads of an old necklace that has sentimental value to a family to make pieces of jewellery for various members of that family.
These two women are very generous in sharing their creative skills.