October 19, 2010
People in Newfoundland and Labrador are familiar with hurricanes.   They move up the eastern seaboard of the USA to this most easterly point of Canada, arriving every Fall to draw their last breaths and pass out eventually somewhere in the north Atlantic. They all have an unusual howl, spill millimeter upon millimeter of water, and at times do moderate damage to property. 
Not so with Hurricane Igor! Igor was in a category not known or experienced before by anyone here in this province. It announced itself in early morning, September 21, in the southern area of the province.   By midday it had unleashed its fury. With wind gusts of up to 140 km/h and upwards of 200 millimeters of rain, infrastructure and systems were overwhelmed and destroyed, unable to handle the volume of water. Hundreds of homes were flooded leading to great loss of property, other homes were shifted from their foundations, while others were completely destroyed.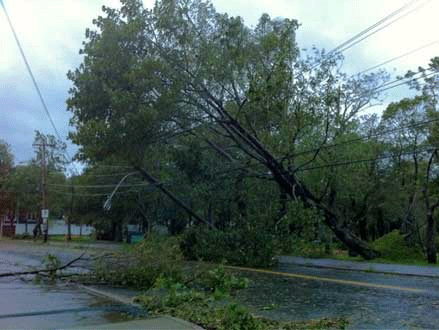 Power lines were felled, leading to loss of electricity so that a sense of complete helplessness settled over the affected areas. By evening the most frightening reality was evident – that hundreds of small rural communities were completely isolated

as bridges were taken off their foundations, and large portions of highways were washed out for hundreds of kilometers. One elderly man who went out his driveway to check a neighbour's property was swept off his feet by rushing water and washed out to sea. People needing dialysis were taken aboard helicopters to distant hospitals.
Eventually, coping with Igor became a story of the triumph of the human spirit. To the extent that Igor destroyed, to that same extent did the care and compassion of people for each other increase and prove stronger than the power of any hurricane.   People risked their own lives to quickly rescue others from their homes as rising water levels threatened not only property but life itself, to share the contents of their cupboards, to do almost the impossible to obtain medical care for the sick and elderly. Government, church groups, power companies, health care facilities, everyone was mobilized to protect and care for the endangered and to stabilize the situation. Armed Forces laid down their weapons to help rebuild bridges and communities.
We, as Sisters of Mercy, received no damage of property or person from Igor, except the loss of some trees.   We were involved in a number of situations of damage and chaos, providing emotional and financial support, bringing hot meals to individuals or families, collaborating with other organizations to respond to extreme need. We were indeed pleased to be a Mercy presence to so many suffering people in their time of need.  Igor was devastating but the spirit of so many was not devastated.