Who We Are – A Safe Refuge
Since their arrival in Newfoundland and Labrador in the 1800s, the Sisters of Mercy and the Presentation Sisters have endeavoured to respond to the needs of people most underserved and at risk in the community. In 1994, they established The Gathering Place in downtown St. John's in response to an increasing number of people who were seeking food in a safe and inclusive place. As The Gathering Place Guests sought additional support, programs and services were added.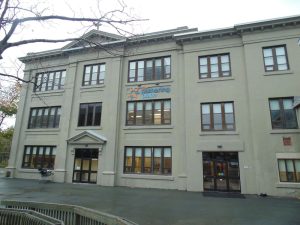 In 2010, a strategic planning initiative led to a major renovation financed by the two Congregations, government, and public and private sector donations. This renovated space includes a social room and other supportive health and social services including a laundry, a clothing boutique, showers, access to housing and transportation, education, and dental and health care. Demand for the services continues to grow exponentially. The Gathering Place is now open seven days a week and provides three meals a day as well as a variety of health and social programs.
In October 2020, in response to the growing needs of individuals who were homeless or precariously housed and in partnership with the provincial government, The Gathering Place opened a 30-bed temporary low barrier shelter. The shelter is a safe place for Guests who have nowhere else to go. Most nights, the temporary shelter is at full capacity. In partnership with the federal and provincial governments and with generous private donations and the generosity of the Sisters of Mercy, the former Mercy Convent is now being developed as Mercy House to include a permanent shelter (O'Callaghan Haven) and supportive and transitional housing.
As the numbers of persons who are homeless or at risk of being homeless grow and their social and health needs increase, the Gathering Place has become a special place for even more Guests. The building that once served a hot bowl of soup has now transformed into an active vibrant community health centre, responding to health needs of Guests with an awareness of the influence of social, economic, and environmental factors on health outcomes and health equity. This is a place where people come when they have nowhere else to go; where they find a safe place to sit, eat, shower or talk; where they gather without judgment and without fear. Day after day, those who are most at risk find a safe refuge at The Gathering Place.