June 9, 2016
What must have gone through the heart and mind of Marianne Creedon when Bishop Fleming asked her if she would return to Ireland to train as a Sister of Mercy! "Go back to Ireland; enter the convent? Come back to St. John's and start up a convent here?" What must the bishop be thinking!!
Life was fairly comfortable now in St. John's and Marianne had settled in well. Her family and friends were here and she was teaching and serving the sick and the poor in various ways. At the age of 21 she had earlier faced the unknowns of life in her move to St. John's in 1833: the loss of what was secure and familiar in her home with the Nugents in Waterford, the risk and suffering of crossing the ocean to a new land, the leaving of all that was familiar.
Now, what was Bishop Fleming asking of her? What was God asking of her?
The thoughts of returning to Dublin may have been exciting for the young woman; but the long voyage over the north Atlantic ocean! This would indeed be a challenge! Then there was the excitement of a new challenge to join a certain Catherine McAuley in a brand new religious order, an order different from other orders in Ireland. Weren't the Sisters of Mercy called the "walking nuns" because they visited the poor and the sick in their homes and in the hospitals? Is God calling her to something new, again?
Bishop Fleming must have seen great potential and giftedness in Marianne. He must have had great trust in her leadership, her ability and her faith. He knew of her skill to nurture the spiritual, intellectual, artistic and social life of the Catholic population in St. John's and beyond. Catherine McAuley, too, must also have had deep trust in Marianne and guided her to completion of her novitiate at Baggot Street where she made religious profession as a sister of Mercy in August 1841. There seems to have been an agreement with Catherine that Marianne, now Sister Mary Francis, would return to Newfoundland to found there the Sisters of Mercy. Likely Catherine McAuley would have accompanied the founding group but she was too sick and died a few months later. Catherine's successor, Sister Mary dePazzi upheld the foundress' commitment to Newfoundland. Francis Creedon, Rose Lynch and Ursula arrived in St. John's on June 3, 1842 to establish the first foundation outside of England and Ireland.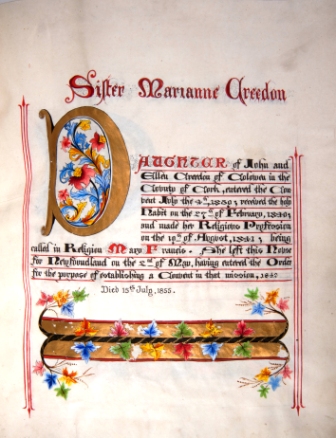 Marianne was home, now as a Sister of Mercy. She, Rose Lynch and Ursula Frayne immediately took up the works of Mercy. The three founding sisters opened a school on Military Road in May, 1843 and continued to visit the sick poor in their homes. By the middle of November that same year Sisters Rose and Ursula had returned to Ireland leaving Francis and a newly professed Mary Joseph Nugent in St. John's to carry on the mission. So thanks to these two the Congregation of the Sisters of Mercy of Newfoundland continued to grow and to flourish. This is our story! June 3 is our foundation day!