April 26, 2010
On September 11, 1861 four Sisters of Mercy set out by stage-coach from St. John's to Portugal Cove, 12 miles away, to board the steamship Ellen Gisborn.  They sailed across Conception Bay for the picturesque and bustling Brigus harbour. Three of these women were professed sisters and one a postulant who had entered the day before.  Three of them were of Irish birth and all four of them under 26 years of age.  They were accompanied by the reverend mother and her assistant from Mercy Convent, Military Road.  The small band of sisters was met with flags and canon shots and a large number of delighted people.  St. Joseph's Convent, Brigus, was the first foundation of Mercy sisters outside of St. John's.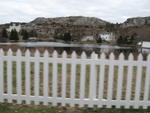 Within the first few days of their arrival the sisters began their visitation of the sick at home and wasted no time in beginning their teaching.  Reports from the Board of Education describes the excellent work and the many achievements of the sisters and their students in education, music and arts.  In 1901 the sisters offered a program to train prospective teachers for the local school board.
From 1861 up to 1991 a large number of Sisters of Mercy were stationed in Brigus and taught in the different schools.  In 1991 the convent closed but one sister continued to commute from Immaculate Conception Convent,Conception Harbour, for a few more years.   
On March 1, 1994 the keys of the Brigus convent were handed to its new owner who intended to open a personal care home for elderly persons.  Since that time ownership has changed a few times until at this date in 2010 the newest owner has opened a restaurant and B&B, Harbour House.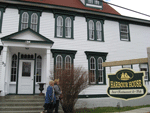 The new enterprise still holds the orignal character of the former convent with useful changes including a large wheelchair accessible deck.  The community room has become a cosy pub that opens up into the adjacent room – the bar; the dining room is still a dining room; and the parlour is now a second, smaller dining room that could be set used for a private meeting.  The former "cells" on the second and third floors have become the sleeping area of the B&B.  Two lovely staircases provide access to this space.