April 15, 2023
Earth Week (14-22 April), the week running up to Earth Day (22 April), is a week when environmental issues take center stage.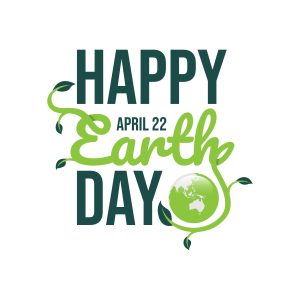 Earth Day, celebrated annually on April 22, seeks to highlight and promote efforts dedicated to protecting our planet and its natural resources. The theme for this year's Earth Day, Invest in our Planet focuses on engaging governments, institutions, businesses and citizens in the work of restoring the health of our planet. We are all too aware of today's many environmental crises that negatively affect our planet and pose a serious risk to our health and our future – global warming, deforestation, widespread pollution, loss of biodiversity, endangered wildlife, shortages of clean water, etc.
In 2022, COP27, the Climate Change Conference and COP15, the Biodiversity Conference, highlighted the role of nature and biodiversity in addressing climate change. These conferences enabled participating countries to make enhanced commitments towards mitigating climate change. While significant green policy initiatives have been taken by governments around the world, most countries are still not on track to meet the commitments made at these conferences.
This Earth Day is another opportunity for all of us to become more involved in the healing of our Earth Home. Pope Francis reminds us of our responsibility in this regard:
We all need to make a contribution to halt the destruction of our common home and to restore nature: governments, businesses and citizens. We must act like brothers and sisters who share the Earth, the common home God has given us.


La Semana de la Tierra (14-22 de abril), la semana previa al Día de la Tierra (22 de abril), es una semana en la que las cuestiones medioambientales ocupan un lugar central.
El Día de la Tierra, que se celebra anualmente el 22 de abril, pretende destacar y promover los esfuerzos dedicados a proteger nuestro planeta y sus recursos naturales. El lema del Día de la Tierra de este año, Invertir en nuestro planeta, se centra en implicar a gobiernos, instituciones, empresas y ciudadanos en la labor de restaurar la salud de nuestro planeta. Todos somos demasiado conscientes de las numerosas crisis medioambientales actuales que afectan negativamente a nuestro planeta y suponen un grave riesgo para nuestra salud y nuestro futuro: calentamiento global, deforestación, contaminación generalizada, pérdida de biodiversidad, fauna en peligro de extinción, escasez de agua potable, etc.
En 2022, la COP27, la Conferencia sobre el Cambio Climático, y la COP15, la Conferencia sobre la Biodiversidad, pusieron de relieve el papel de la naturaleza y la biodiversidad en la lucha contra el cambio climático. Estas conferencias permitieron a los países participantes reforzar sus compromisos para mitigar el cambio climático. Aunque los gobiernos de todo el mundo han tomado importantes iniciativas de política ecológica, la mayoría de los países aún no están en vías de cumplir los compromisos adquiridos en estas conferencias.
Este Día de la Tierra es otra oportunidad para que todos nos impliquemos más en la curación de nuestro Hogar Tierra. El Papa Francisco nos recuerda nuestra responsabilidad a este respecto:
Todos debemos contribuir a detener la destrucción de nuestra casa común y a restaurar la naturaleza: gobiernos, empresas y ciudadanos. Debemos actuar como hermanos y hermanas que comparten la Tierra, la casa común que Dios nos ha dado.