September 17, 2022
The Church has been celebrating the World Day of Migrants and Refugees (WDMR) since 1914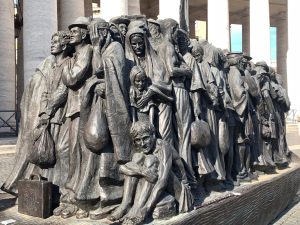 September 25 is a day set aside by the Church to reflect on the plight of migrants and refugees. The theme for this year is Building the Future with Migrants and Refugees, a theme which takes on particular meaning in today's world. Pope Francis' message for this occasion can be found here 
This year's theme also has particular relevance in the current Canadian context. More than 500,00 people are living and working in Canada without status or in precarious situations.
The Canadian government is looking to implement a program to grant permanent resident status to those people, who were the backbone of our workforce during the Covid 19 crisis. If this program is adopted by Parliament in its Fall session, the lives of all these people would be changed considerably.
Let us pray that this may be so …
More information and resources to mark this day can be found here
La Iglesia celebra la Jornada Mundial del Emigrante y del Refugiado (JMR) desde 1914
El 25 de septiembre es un día reservado por la Iglesia para reflexionar sobre la difícil situación de los migrantes y los refugiados. El tema de este año es Construir el futuro con los migrantes y los refugiados, un tema que adquiere un significado especial en el mundo actual. El mensaje del Papa Francisco para esta ocasión se puede encontrar aquí
El tema de este año también tiene especial relevancia en el contexto actual de Canadá. Más de 500.000 personas viven y trabajan en Canadá sin estatus o en situaciones precarias.
El gobierno canadiense está estudiando la posibilidad de poner en marcha un programa para conceder el estatus de residente permanente a estas personas, que fueron la columna vertebral de nuestra mano de obra durante la crisis del Covid 19. Si este programa es aprobado por el Parlamento en su sesión de otoño, la vida de todas estas personas cambiaría considerablemente.
Recemos para que así sea…
Puede encontrar más información y recursos para celebrar este día aquí