December 11, 2022
The 15th Conference of the Parties (COP15) to the United Nations Convention on Biological Diversity (CBD) is an international meeting bringing together governments from around the world.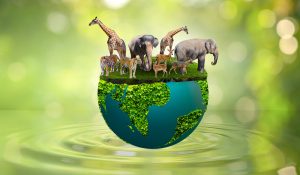 Participants will set out new goals and develop an action plan for nature over the next decade. The conference will be held in Montréal, Quebec, the seat of the UN CBD Secretariat, from December 7 – 19, 2022.
COP15 will focus on protecting nature and halting biodiversity loss around the world. The Government of Canada's priority is to ensure the COP15 is a success for nature. There is an urgent need for international partners to halt and reverse the alarming loss of biodiversity worldwide.
Our Goal
Canada will continue to advocate for international collaboration on an ambitious Post-2020 Global Biodiversity Framework, including targeting 30 percent of lands and oceans conserved by 2030. Halting and reversing biodiversity loss require real collaboration and partnership, including with Indigenous Peoples, the original guardians of the land. It also requires real transformative change, innovation, and a proper accounting for the true value of nature in decision-making across all sectors.
History
The Convention on Biological Diversity (CBD) was first signed by 150 government leaders at the 1992 Rio Earth Summit. Its main objectives are: the conservation of biological diversity, the sustainable use of the components of biological diversity, and the fair and equitable sharing of the benefits arising out of the utilization of genetic resources. The CBD is dedicated to promoting sustainable development and the Convention recognizes that biological diversity is about more than plants, animals and micro-organisms and their ecosystems – it is about people and our need for food security, medicines, fresh air and water, shelter, and a clean and healthy environment in which to live. The CBD Secretariat is located in Montréal, Quebec.
COP15: Proteger la naturaleza y frenar la pérdida de biodiversidad
La 15ª Conferencia de las Partes (COP15) del Convenio de las Naciones Unidas sobre la Diversidad Biológica (CDB) es una reunión internacional que congrega a gobiernos de todo el mundo.
Los participantes fijarán nuevos objetivos y elaborarán un plan de acción para la naturaleza durante la próxima década. La conferencia se celebrará en Montreal (Quebec), sede de la Secretaría del CDB de las Naciones Unidas, del 7 al 19 de diciembre de 2022.
La COP15 se centrará en proteger la naturaleza y detener la pérdida de biodiversidad en todo el mundo. La prioridad del Gobierno de Canadá es garantizar que la COP15 sea un éxito para la naturaleza. Existe una necesidad urgente de socios internacionales para detener e invertir la alarmante pérdida de biodiversidad en todo el mundo.
Nuestro objetivo
Canadá seguirá abogando por la colaboración internacional en un ambicioso Marco Mundial de la Biodiversidad para después de 2020, que incluya el objetivo de conservar el 30% de las tierras y los océanos para 2030. Detener y revertir la pérdida de biodiversidad requiere una verdadera colaboración y asociación, incluso con los pueblos indígenas, los guardianes originales de la tierra. También requiere un verdadero cambio transformador, innovación y una contabilidad adecuada del verdadero valor de la naturaleza en la toma de decisiones en todos los sectores.
Historia
El Convenio sobre la Diversidad Biológica (CDB) fue firmado por primera vez por 150 líderes gubernamentales en la Cumbre de la Tierra celebrada en Río en 1992. Sus principales objetivos son: la conservación de la diversidad biológica, la utilización sostenible de los componentes de la diversidad biológica y la participación justa y equitativa en los beneficios que se deriven de la utilización de los recursos genéticos. El CDB se dedica a promover el desarrollo sostenible y el Convenio reconoce que la diversidad biológica es algo más que plantas, animales y microorganismos y sus ecosistemas: se trata de las personas y de nuestra necesidad de seguridad alimentaria, medicinas, aire y agua frescos, cobijo y un medio ambiente limpio y sano en el que vivir. La Secretaría del CDB se encuentra en Montreal (Quebec).