February 22, 2010
Recently our Congregation was blessed and inspired as we welcomed five more women into a Mercy Associate relationship.
On Sunday, December 13, 2009 in the presence of a large group of Associates and Sisters, Betty Pomroy and Margaret Hall made their commitment and received their pins and certificates of Mercy Associate membership from Sister Elizabeth Davis, Congregational Leader.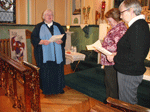 The setting was the beautiful chapel of Mercy Convent, a space so appreciated and loved by all of our Associates over the years. The occasion provided an opportunity for all to mingle with the Sisters of Mercy Convent community, with the members of the Congregational Leadership Team and with other Associates who were present.
On Tuesday, February 16, 2010, Sue McDonald, Mary Taylor and Alice Whelan
made their commitment as Mercy Associates in a moving ritual service in the chapel at Conception Harbour. Sister Elizabeth Marrie accepted the statement of commitment of the new Associates, presented their pins and certificates of membership and welcomed them on behalf of the Congregation.
Sister Betty Morrissey brought to light the life, vision and charism of Catherine McAuley as she shared her recent experiences at Baggot Street. Referring to the 2009 Chapter Proclamation, Sister Maureen O'Keefe remarked that the "growth of our Associate relationship could be seen as part of the 'something new' that God is doing in our midst. In these challenging times, Sisters and Associates of Mercy toge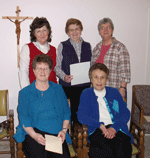 ther are called to bring to fruition the commitments of our Proclamation – to deepen our relationships, enhance our ministries and strengthen our visible presence as instruments of God's mercy in our world. The energy and dedication of new Associate members give renewed impetus to our efforts".
At the conclusion of both ceremonies, all gathered for a sharing over our traditional 'cup of tea' and generous spread of treats to share stories and to enjoy each other's company.