September 15, 2023
Five Sisters of Mercy of Newfoundland are celebrating 70th and 60th anniversaries this year, 2023!
Sisters Joan Gosse and Theresa March were received in 1953 and Sisters Helen Harding, Rona O'Gorman and Sylvia Doyle were received in 1963.  These women have served as teacher or principal most of their lives and then retired to new works of Mercy in leadership, hospitals, nursing homes, prisons and other ministries.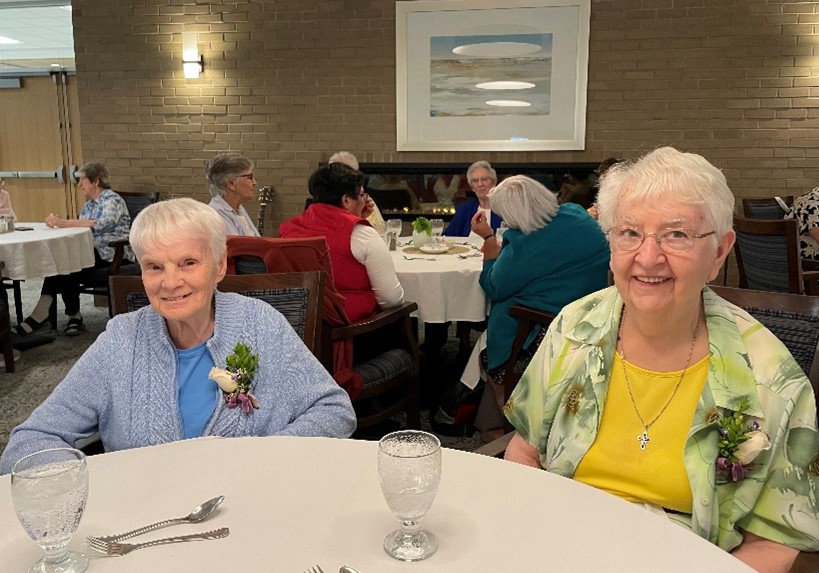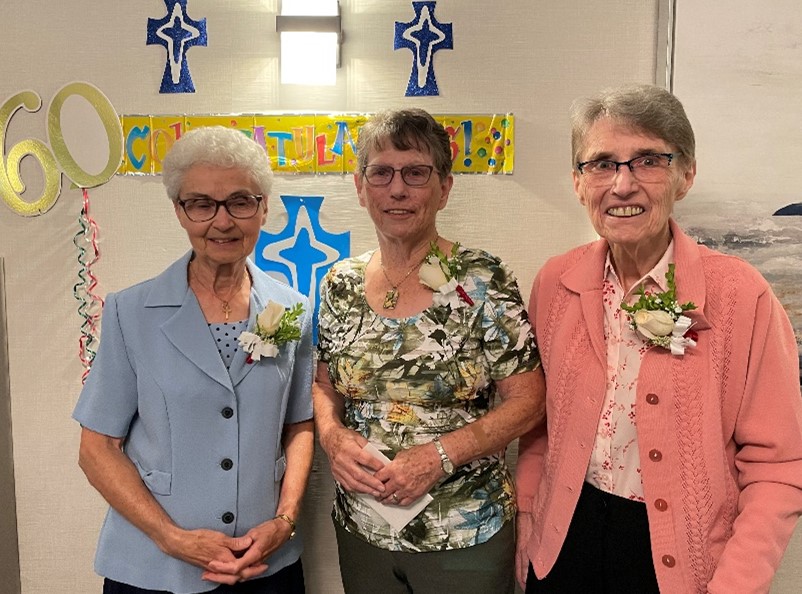 This year we rejoice with them as they celebrate diamond and platinum anniversaries.  We joined them in August for dinner during the days of our Assembly and celebrated their combined total of 360 years as Sisters of Mercy.
"Mercy is a person comfortable to be with-
The safest and soundest-
Blessed in her being
With the indisputable reality
That she is a true daughter,
In manner and in mind,
Of the maker of the universe. "
-Mary Wickham,rsm
Celebrando Platino y Diamante
Cinco Hermanas de la Misericordia de Terranova celebran sus 70 y 60 aniversarios este año, ¡2023!
Las Hermanas Joan Gosse y Theresa March fueron recibidas en 1953 y las Hermanas Helen Harding, Rona O'Gorman y Sylvia Doyle fueron recibidas en 1963. Estas mujeres han servido como profesoras o directoras la mayor parte de sus vidas y luego se retiraron a nuevas obras de Misericordia en el liderazgo, hospitales, hogares de ancianos, prisiones y otros ministerios.
Este año nos alegramos con ellas al celebrar sus aniversarios de diamante y platino. Nos unimos a ellas en agosto para cenar durante los días de nuestra Asamblea y celebramos su total combinado de 360 años como Hermanas de la Misericordia.
    La Misericordia es una persona con la que es cómodo estar-
   La más segura y sólida-
   Bendita en su ser
   Con la realidad indiscutible
   Que es una verdadera hija,
   En la manera y en la mente,
  del creador del universo.
Mary Wickham,rsm