December 29, 2012
Dec. 22, 2012  Reaching Out
Sr. Loretta Walsh, RSM, was asked by The United Way of NL to participate in their "Stuff the Sock" Campaign on behalf of the needy in our Province.   Each organization was given the opportunity to name the organization of it choice to which it wanted their stockings forwarded.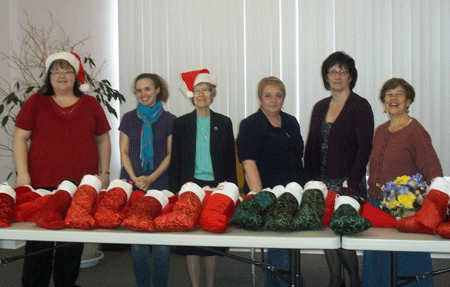 As it was Sr. Loretta's third year supporting a Christmas project on behalf of Street Reach (a not-for-profit organization which serves the homeless in the city of St. John's, NL) Sr. Loretta requested that her stockings be forwarded to Street Reach. As Street Reach has a clientele of 190 (120 male and 70 female) Sr. Loretta asked if the United Way would match the number of Stockings she would stuff to ensure that each client could receive a Christmas stocking at their Special Dinner. The United Way very generously consented.
With the help of an number of organizations: Pastoral Staff, Basilica Choir Members, St. Bride's Convent Community and other generous donors, Sr. Loretta and the Pastoral Staff stuffed 55 Christmas stockings which included the following items: hats, scarves, mittens, socks, hygiene goods, sweets, and a $5.00 gift certificate to Tim Horton's.
In addition to the filled stockings, a request went out for gently used winter coats and boots. Twelve bags, full of coats, were forwarded to the centre. The response was so generous that the Family Life was able to help with a project for Carew Lodge and the Women's Centre, two other shelters in St. John's.
No doubt the Family Life Bureau was able to bring a smile to the faces of the most vulnerable individuals in our city as well as warm their heads, necks, hand, feet ,and bodies.
Submitted by: Sr. Loretta Walsh, RSM
Director,
Family Life Bureau, St. John's, NL