April 2, 2023
Palm and Passion, trust in what is false or trust in an ever-faithful God, the gift of words and story, eco-memory – so many threads are woven through the tapestry that is the Liturgy of the Word for our Holy Week now unfolding. This Sunday is the transition moment to the final steps to transformation which will emerge next Sunday – Easter Sunday.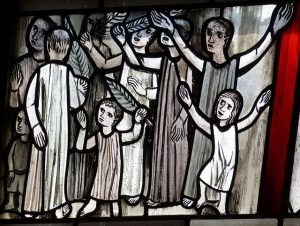 We begin our liturgy today with Jesus' entry into Jerusalem, as the people shout, "Hosanna to the Son of David! Blessed is the one who comes in the name of the Lord! Hosanna in the highest heaven!" (Matt 21:9). The people were rejoicing in the coming of the Messiah, but they were placing all their hopes in a Messiah who was a king, a mighty and powerful leader, certainly not a Messiah who was a suffering servant, who would die by the lowest form of death possible – crucifixion. They were right to trust in this Prophet Jesus from Nazareth in Galilee. They were mistaken in understanding how this Prophet, this Son of David, this one who was coming in the name of the Lord, would lead them into new life. These same people, when their hopes seem lost, mock Jesus and choose the man Barabbas over him…
Read the rest of Sr Elizabeth's Reflection (PDF)
Ramos y Pasión, confianza en lo falso o confianza en un Dios siempre fiel, el don de la palabra y de la historia, la ecomemoria… son muchos los hilos que se entretejen a través del tapiz que es la Liturgia de la Palabra para nuestra Semana Santa que ahora se desarrolla. Este domingo es el momento de transición hacia los pasos finales de la transformación que se producirá el próximo domingo: el Domingo de Resurrección.
Comenzamos nuestra liturgia de hoy con la entrada de Jesús en Jerusalén, mientras el pueblo grita: "¡Hosanna al Hijo de David! ¡Bendito el que viene en nombre del Señor! Hosanna en las alturas". (Mt 21,9). El pueblo se regocijaba por la venida del Mesías, pero ponía todas sus esperanzas en un Mesías que era un rey, un líder poderoso, y no en un Mesías que era un siervo sufriente, que moriría con la forma más baja de muerte posible: la crucifixión. Tenían razón al confiar en este Profeta Jesús de Nazaret de Galilea. Se equivocaron al comprender cómo este Profeta, este Hijo de David, este que venía en nombre del Señor, les conduciría a una vida nueva. Estas mismas personas, cuando sus esperanzas parecen perdidas, se burlan de Jesús y eligen al hombre Barrabás en vez de a él…