June 22, 2013
The Sisters of Mercy of Newfoundland celebrated their 20th General Chapter, June 16 – 21, 2013.  The Chapter, titled Tending the Fire of God's Mercy, was declared "Open" by Congregational Leader, Sister Elizabeth Davis on Sunday evening.  There were almost 200 present in the Corpus Christi parish hall, among whom were about 80 Sisters, as well as Associates of the sisters, and colleagues and friends.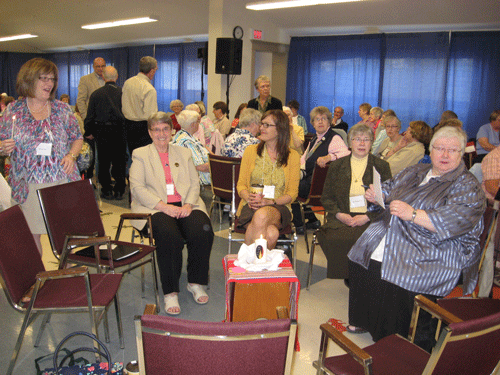 The sisters of the two communities in Peru were in attendance.  Earlier that afternoon a prayer of remembrance was held in the Sisters' Cemetery at Belvedere and also at McAuley Convent where the sick and infirm sisters reside. Relatives of the deceased sisters were present for the prayer. 
The same l
arge group came together on Monday to reflect on where the Mercy of God is experienced and where it is needed.  Ms. Judith King of Donegal, Ireland was the Chapter facilitator and guided the group through the proceedings of the day.  In the evening the Archbishop of St. John's, Martin Currie, presided at the celebration of the Eucharist.  The next day the sisters gathered to continue their reflection and discussion and to build on the work of the previous day.  On Thursday the Chapter of Election took place and the sisters elected four of their members who would lead them for the next four years.  The leadership team for 2013 – 2017 will be Sisters Elizabeth Davis (Leader), Sheila O'Dea, Elizabeth Marrie, Diane Smyth.  Friday was the last day of the Chapter and the session ended at noon. 
The reflections and conversations over these days provide guidance for the direction that the Congregation of the Sisters of Mercy of Newfoundland will take over the next four years. The 20th General Chapter was one of prayer, reflection, discussion, visioning and celebration.  Fun and humor also found a place in the days and evenings, especially a very well planned and fun-filled "kitchen party".  A good cup of tea was always part of the day-to day events!