June 2, 2012
Founded 170 years ago
This year we celebrate 170 years of history and ministry of the Congregation of the Sisters of Mercy of Newfoundland.  We have a rich history of dedicated commitment in health care, education, social services and pastoral ministry on the island of Newfoundland, in Labrador, in Peru, in Ontario, Washington, Florida, Ireland and Africa. All of this 'action' is rooted in the 'contemplative' aspect of the Sisters' lives, and especially in the lives of the elder Sisters, where they find their source of grace and energy.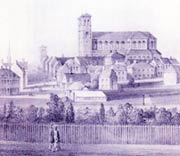 The story of the Congregation of the Sisters of Mercy of Newfoundland began when Bishop Michael Anthony Fleming traveled to Dublin, Ireland where he approached Catherine McAuley to request a community of Sisters of Mercy for his island mission. To facilitate his plan, the bishop agreed to send to the convent on Baggot Street a young lady to be trained as a Sister of Mercy so that she could return to Newfoundland and found a Convent of Mercy in St. John's. The bishop's choice for this important role was Marianne Creedon, a young Irish lady who had lived in St. John's since 1833 and who was familiar with the needs of the mission. Catherine McAuley received Marianne Creedon into the novitiate at Baggot Street, and on August 19, 1841, Marianne, now Sister Mary Francis, was professed as a Sister of Mercy. Nine months later, on May 2, 1842, Sister Francis Creedon, accompanied by Sisters Ursula Frayne and Rose Lynch left St. Catherine's Convent, Baggot Street, and crossed the Atlantic Ocean to form the first community of the Sisters of Mercy in the New World. They arrived in St. John's, Newfoundland on June 3, 1842. This date marks the establishment of the Congregation of the Sisters of Mercy of Newfoundland.
During the first eleven months of the new mission, the Sisters of Mercy visited the sick and the poor in their homes. On December 12, 1842, the Sisters moved from their temporary home, the bishop's residence, to their new convent on Military Road. This was the first Mercy Convent in the New World. On May 1, 1843, Our Lady of Mercy School, Military Road, was formally opened.