May 27, 2019
The Sisters of Mercy have provided ministry in Conception Harbour for over 150 years.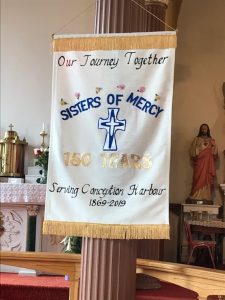 On Tuesday May 21 about thirty of us attended a grand celebration in the parish of Eucharist followed by a hot roast beef dinner.  Sister Roisin Gannon represented the Presentation Sisters.  Bishop Anthony Daniels surrounded by seven priests of the Grand Falls Diocese celebrated Eucharist in St. Anne's Church with participation of the sisters and parishioners in readings, music and other moments in the liturgy.  The church was sparkling and beautifully decorated with roses.  A large banner hung in the church acknowledging the 150 years' anniversary – Our Journey Together!  At the end of Mass, a plaque was presented to the Congregation which will be placed in the church to commemorate the anniversary.  In his homily Bishop Daniels connected the call and ministry of the sisters to that of the early disciples of Jesus and gratefully commended their life and ministry among the people of Conception Harbour and surrounding area.
Almost 180 friends and parishioners were seated at the banquet tables in St. Anne's Hall and were served a delicious meal catered by Tiny's Restaurant.   Mrs. Agnes (O'Driscoll) Richard recounted her memories of going to school to the sisters and told wonderful and humorous stories of her experiences in the various grade levels.  Sister Elizabeth Davis responded with a little of the history of the foundation and proud commendation of the support and collaboration of the people during all those years and up to the present.  She included a remembrance of the five sisters who are buried in the convent garden and in the receptive soil of Conception Harbour.  The Mayor presented Sister Geraldine with a plaque to commemorate the anniversary.  A huge cake baked and decorated by the niece of Sister M. Damien Morrissey was served to the crowd at the end of the dinner. (The small statue of Mary on the cake was salvaged from St. Anne's School when it closed!  The baker told me she couldn't find a 'nun' statue!)
Congratulations to the Sisters who currently live and minister in Conception Harbour, Sisters Geraldine Mason, Ruth Beresford and Ellen Marie Sullivan!
Congratulations to the Sisters of Mercy especially those who ministered there, and to the generous, faithful and loving people and church of Conception Harbour!  Congratulations and thanks to all who prepared the details of the celebration! Congratulations on this 150th anniversary celebration!
Messages to: Sisters of Mercy Newfoundland
Las Hermanas de la Misericordia llevan más de 150 años ejerciendo su ministerio en Conception Harbour.
El martes 21 de mayo una treintena de nosotras asistimos a una gran celebración en la parroquia de la Eucaristía seguida de una cena caliente de carne asada. La Hermana Roisin Gannon representó a las Hermanas de la Presentación. El obispo Anthony Daniels rodeado de siete sacerdotes de la diócesis de Grand Falls celebró la Eucaristía en la iglesia de Santa Ana con la participación de las hermanas y los feligreses en las lecturas, la música y otros momentos de la liturgia. La iglesia estaba resplandeciente y bellamente decorada con rosas. En la iglesia colgaba una gran pancarta en reconocimiento del 150 aniversario: ¡Nuestro viaje juntos! Al final de la misa, se entregó a la Congregación una placa que se colocará en la iglesia para conmemorar el aniversario. En su homilía, el obispo Daniels relacionó la llamada y el ministerio de las hermanas con el de los primeros discípulos de Jesús y elogió con gratitud su vida y su ministerio entre la gente de Conception Harbour y alrededores.
Casi 180 amigos y feligreses se sentaron a las mesas del banquete en la Sala de Santa Ana y se les sirvió una deliciosa comida servida por el Restaurante Tiny's. La Sra. Agnes (O'Driscoll) Richard relató a las hermanas sus recuerdos de cuando iba a la escuela y contó historias maravillosas y llenas de humor de sus experiencias en los distintos grados. La hermana Elizabeth Davis respondió con un poco de la historia de la fundación y elogió con orgullo el apoyo y la colaboración de la gente durante todos esos años y hasta el presente. Incluyó un recuerdo de las cinco hermanas que están enterradas en el jardín del convento y en el suelo receptivo de Conception Harbour. El alcalde entregó a la hermana Geraldine una placa conmemorativa del aniversario. Al final de la cena se sirvió a los asistentes una enorme tarta horneada y decorada por la sobrina de la hermana M. Damien Morrissey. (¡La pequeña estatua de María de la tarta fue rescatada del colegio Santa Ana cuando cerró! La pastelera me dijo que no pudo encontrar una estatua de "monja").
Felicidades a las Hermanas que actualmente viven y ejercen su ministerio en Conception Harbour, las Hermanas Geraldine Mason, Ruth Beresford y Ellen Marie Sullivan.
Felicidades a las Hermanas de la Misericordia, especialmente a las que ejercen su ministerio allí, y a la generosa, fiel y cariñosa gente e iglesia de Conception Harbour. ¡Felicidades y gracias a todos los que prepararon los detalles de la celebración! ¡Felicidades por esta celebración del 150 aniversario!
Mensajes para: Hermanas de la Misericordia de Terranova