May 12, 2023
May 12 is celebrated globally as International Nurses' Day, the anniversary of the birth of Florence Nightingale.  In the words of Sylvain Brousseau, president of the Canadian Nurses Association, this is a day "to pay tribute to the outstanding contribution of nurses to the communities, patients and health systems they serve, as well as their impact on global health outcomes."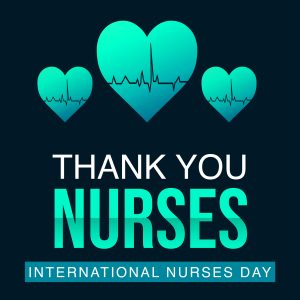 Health care has been one of our major congregational ministries and we have been blessed with many compassionate, competent and committed nursing sisters over the years. We have also ministered with many caring and dedicated nursing colleagues.
We honor them and remember them with gratitude. We take this opportunity to congratulate and thank our current nurses – Sisters Jane McGrath, Loretta Walsh and Eileen Penney, as well as our colleagues, Ms. Norma Baker and Ms. Maria Tracey and all who minister with us at St. Clare's Mercy Hospital and St. Patrick's Mercy Home.
El 12 de mayo se celebra en todo el mundo el Día Internacional de la Enfermera, aniversario del nacimiento de Florence Nightingale. En palabras de Sylvain Brousseau, presidente de la Asociación Canadiense de Enfermeras, es un día "para rendir homenaje a la destacada contribución de las enfermeras a las comunidades, los pacientes y los sistemas de salud a los que sirven, así como a su impacto en los resultados sanitarios mundiales".
La atención sanitaria ha sido uno de los principales ministerios de nuestra congregación y, a lo largo de los años, hemos tenido la suerte de contar con muchas hermanas enfermeras compasivas, competentes y comprometidas. También hemos ejercido nuestro ministerio con muchos colegas enfermeros atentos y dedicados.
Les honramos y les recordamos con gratitud. Aprovechamos esta oportunidad para felicitar y agradecer a nuestras enfermeras actuales – las Hermanas Jane McGrath, Loretta Walsh y Eileen Penney, así como a nuestras colegas, la Sra. Norma Baker y la Sra. Maria Tracey y a todos los que ejercen su ministerio con nosotras en el St. Clare's Mercy Hospital y en el St. Patrick's Mercy Home.